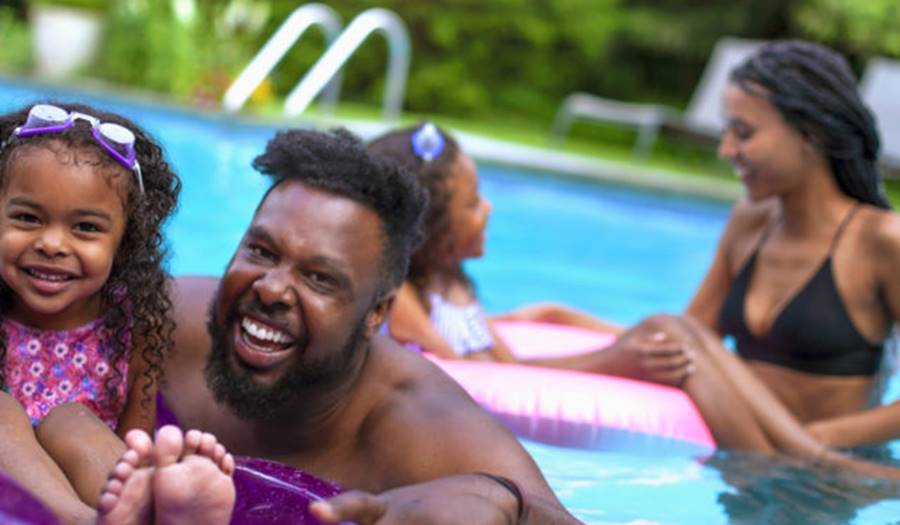 Water Safety
6/8/2020
Safe Swimming And Water Safety At All Ages
Drowning
Drowning is a huge fear for most parents and rightfully so. Drowning is the leading cause of death in toddlers only behind birth defects! As your child enters teen years, their risk increases again. We live in New England, with easy access to lakes, rivers, the ocean, and swimming pools. The best way to reduce your child's risk is to be prepared!
How to protect your child at every age
Infants
Infants are at risk of drowning due to their high interest in water and because they are learning gross motor skills. This means they cannot move their bodies well enough to get out even shallow water. The water only needs to be 2 inches deep for an infant to drown. Infants are most likely to drown in their bathtub. You can protect your child by providing "touch supervision" which means they are in arms reach at all times. A bath ring or bath seat is NOT a safety device. Never leave a child alone in a bathtub. Near pools or natural bodies of water, your infant should be in arms reach at all times. They should also be wearing a life jacket near natural water sources and any time they are on a boat.
Toddlers
Toddlers are the highest risk age group for drowning. They are naturally curious and more active. And as any parent of a toddler knows, they move fast and find trouble quickly! Most toddler drowning occurs due to unexpected, unsupervised access to water including pools, hot tubs, bathtubs, and natural bodies of water. Most drownings under the age of 4 occur at a home pool.
Teens
Teens are the second highest risk group for drowning after toddlers. Teens often overestimate their swimming ability and underestimate the dangers of the situation they are in. They are most at risk in natural water. Their risk is 3 times higher than 5 to 9 year old children! Alcohol is another factor that increases teen risk. and it is responsible for over half of all recreational water deaths.
Layers of Protection
The American Academy of Pediatrics recommends "layers of protection". This means managing your environment, providing supervision of your child, and enrolling your child in swim lessons.
ENVIRONMENT
Remove water hazards such as empty water containers, wading pools, buckets, and coolers from your yard or home. Additionally, you can prevent your child from getting outdoors unnoticed by using gates, door locks, doorknob covers, and door alarms. Ensure your pool is safe with proper fencing, a separate pool area from house area, pool alarms, and by removing toys or other enticing items from the pool area when not in use.
Children should be taught to enter natural bodies of water feet first only. Discussions about how to choose natural water spots as well as awareness of hazards including cold weather hazards (for example thin ice or riding a vehicle on ice) are important to have with your older children. It is also important to discuss the role of alcohol in water accidents with your teenager. Life jackets should be worn by infants and toddlers near any natural body of water and by all ages while boating. Just like helmets on bicycles, it is important to reiterate the need for a life jacket, especially to teens, while on any boats and to set an example by wearing one yourself.
POOL SAFETY
POOL FENCING
Fencing should be separate from the house and should be fenced in on all 4 sides of the pool The pool fence needs to be at least 4 feet tall and any gates need to be self-latching and the gate should open out from the pool not in towards the pool.
POOL TOYS
Pool toys should be removed from the pool area when not in use.  Blow up pools or kiddie pools should be emptied and turned over.
POOL ALARMS
Consider alarms on the water as well as on the gate.  With smaller children in the house, consider alarming the doors and windows as well.
SUPERVISION
Touch supervision or being within arms reach near any body of water, including a bathtub is important for infants and toddlers. Never leave a child alone in a bathtub. Near pools or natural bodies of water, your infant or toddler should be in arms reach at all times.
School-age children and teenagers still require supervision while swimming and should not be left alone. Children should always inform an adult or parent that they are entering the water.
One way to ensure supervision for children of all ages is to make sure an adult is assigned as a "water watcher" any time your child is near water. What is a water watcher? A water watcher is a person who is assigned the job of watching their child or a few children while they are swimming. They should be paying constant attention with no distractions such as phones, texting, or conversation. They should avoid using alcohol or drugs while water watching.  If children are younger, they should be within touching distance or arm's reach and in the pool with the swimmers. Water watching should be an assigned duty with a plan to change watchers every 15 to 20 minutes. Water watchers are necessary even when lifeguards are present, especially for small children.
Adults should not assume that someone is watching the water or your children. A plan should be discussed before swimming so that there is always an adult. When switching what adult is watching, make sure both adults are aware that the "water watcher" duty is shifting to the new adult.
Swim lessons
Swim lessons are recommended by the American Academy of Pediatrics as another level of protection. Swim lessons do not make children "drown proof" and shouldn't be used in place of the other precautions listed above. Swim lessons can start any time after the age of 1 but may be started later depending on your child's development. By age 4, lessons should be more formal and should include basic water survival skills. At age 5 or 6 stroke development should be started.
Swim lessons can be expensive. Many towns or organizations offering swim lesson have scholarship programs to help all children have the experience of learning to swim.
Keeping your child safe in and around water is one of our most important parenting jobs. If you have any questions about water safety or your child's readiness for swim lessons, please do not hesitate to contact us. The American Academy of Pediatrics also has great information about water safety and drowning prevention at www.healthychildren.org.
Children's Health Care of Newburyport, Massachusetts and Haverhill, Massachusetts is a pediatric healthcare practice providing care for families across the North Shore, Merrimack Valley, southern New Hampshire, and the Seacoast regions.  The Children's Health Care team includes pediatricians and pediatric nurse practitioners who provide comprehensive pediatric health care for children, including newborns, toddlers, school aged children, adolescents, and young adults. Our child-centered and family-focused approach covers preventative and urgent care, immunizations, and specialist referrals. Our services include an on-site pediatric nutritionist, special needs care coordinator, and social workers. We also have walk-in appointments available at all of our locations for acute sick visits. Please visit chcmass.com where you will find information about our pediatric doctors, nurse practitioners, as well as our hours and services. 
Disclaimer: this health information is for educational purposes only. You, the reader, assume full responsibility for how you choose to use it.