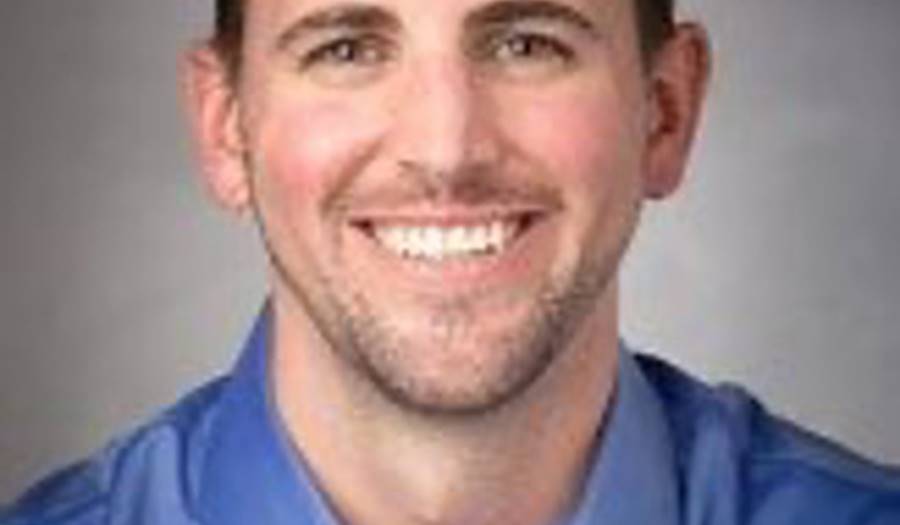 Provider Spotlight - Michael Keaney, CPNP
3/29/2021
A chance to get to know your providers
Michael Keaney, CPNP
Michael Keaney is a Pediatric Nurse Practitioner who works in our Haverhill Office. He joined CHC in 2012.
Michael was born in Boston, Massachusetts and grew up in Connecticut and Bedford, New Hampshire. He graduated from Manchester High School West. Growing up he spent most of his time on the soccer field but transitioned to the pool while attending Connecticut College, where he joined the Diving team (Fun fact; at one point Michael Keaney and Jodi Cobb, both members of their college swim team, had swim and dive meets where they competed against each other). Michael majored in and received a Bachelor of Arts degree in Zoology while at Connecticut College. While at college, he volunteered at the Mystic Aquarium and studied abroad in Kenya for three months, living among and studying the wildlife.
After graduation, he spent a few years at a desk job in the business world before choosing to enter the direct-entry Northeastern Nursing Program. During this time, he worked for three years at New England Sinai Hospital on a long-term acute care floor before transitioning to pediatrics when he joined CHC to care for your children. He has been with Children's Health Care since August of 2012.
Michael stays active in adult sports leagues. It was in one of these softball leagues where he met his future husband, Ian. They lived together in and around Boston before moving to Salem, MA with their two French bulldogs Diesel and Lulu. They love to explore Cape Ann, the North Shore and all that Salem has to offer. They can happily say they have survived three Halloween seasons in Salem so far! Michael and Ian love to cook, travel, and spend time with their extended family. They can often be found cheering on their teenage nephews at local baseball diamonds.
Diesel as Mr. T and Lulu as a Handmaid for Halloween
A family trip to Mexico with Michael's mom, sister, brother-in-law, and nephews.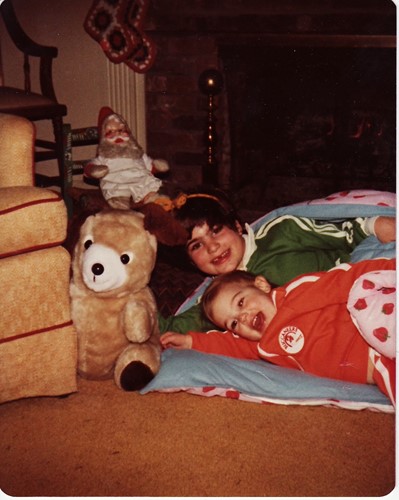 Michael and his sister, Ann.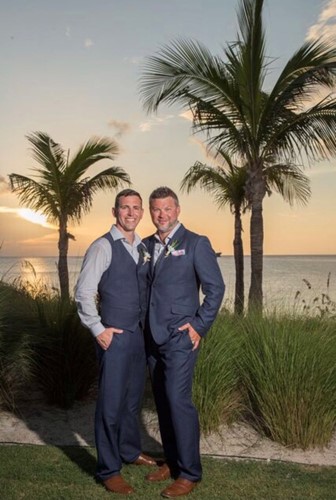 Michael and Ian's wedding in the Bahamas.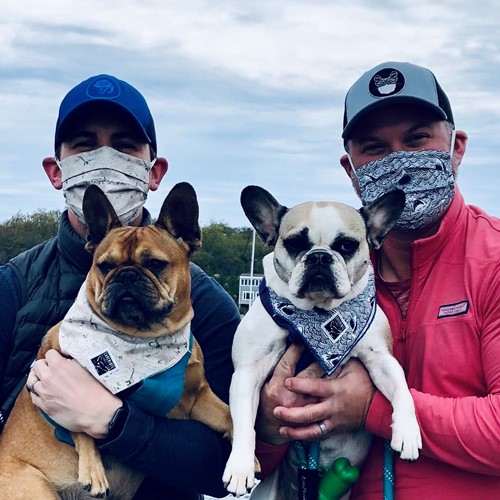 Quarantining with the pups.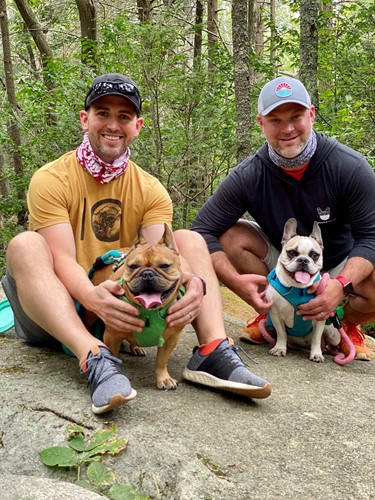 Michael, Ian, Diesel, and Lulu love hiking.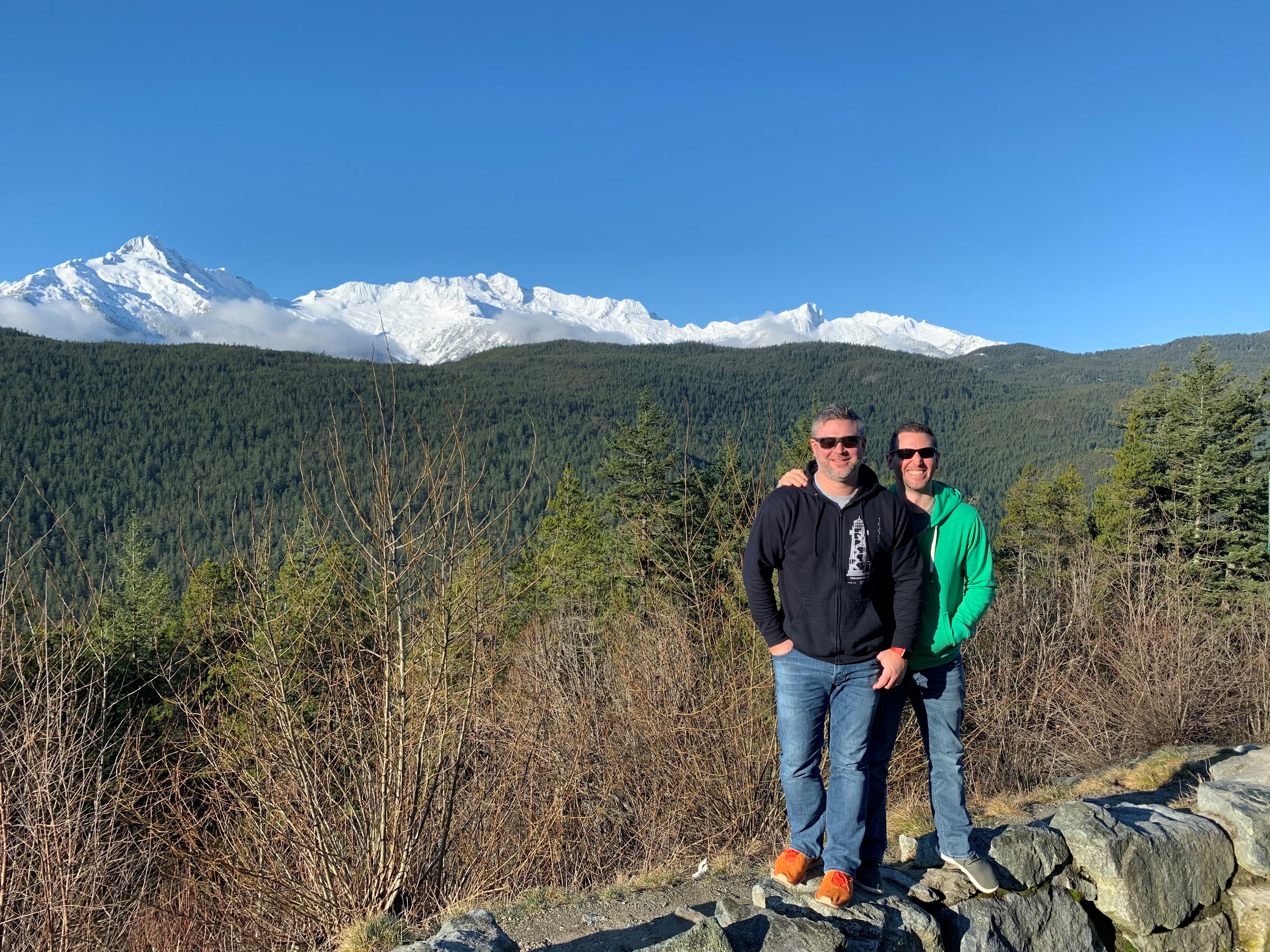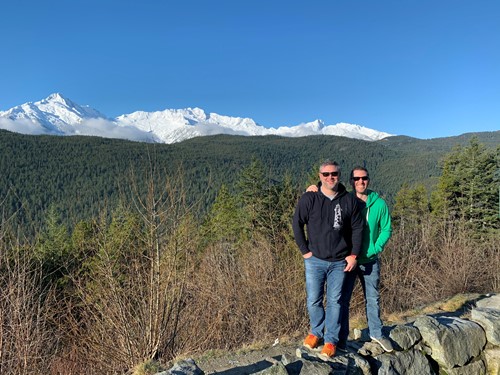 Michael and Ian love traveling and can't wait to start traveling again once Covid-19 precautions are lifted.
All About Michael!
What is your favorite fruit?
Raspberries
What music do you love?
Does "Yacht Rock" count? This mix has all of your 6th and 7th favorite songs from the 70s and 80s!
What is the last TV show you watched?
We just finished WandaVision. We also are watching some local action on Wicked Tuna.
What is your favorite book?
Snow Falling on Cedars by David Guterson.
What is your favorite movie?
Life as a House
What is your Favorite Ice Cream Flavor?
Purple Cow (black raspberry yogurt with chunks of white and dark chocolate).
What is your favorite vacation you have taken?
Bruges, Belgium is absolutely incredible and quintessential Europe! Bruges is a small canal-based medieval town known for its bridges, castles, chocolate, beer, and lace. It should be on everyone's list.
What did you want to be when you were a child?
I wanted to be a Marine Biologist.
If you could have any other job what would it be?
I would go into veterinary medicine or run a Bed and Breakfast in a small country town.
Do you have any hidden or useless talents?
My husband would say I have an uncanny ability for 'Name that Tune" but I would go with the fact I can juggle a little bit!
What area of pediatrics are you interested in?
I am interested in Adolescent health and counseling teens. Michael volunteers regularly with NaGLY, the North Short Alliance of GLBTQ Youth in Salem, MA.
What's the best part of CHC?
Building relationships with patients and families!
Children's Health Care of Newburyport, Massachusetts and Haverhill, Massachusetts is a pediatric healthcare practice providing care for families across the North Shore, Merrimack Valley, southern New Hampshire, and the Seacoast regions.  The Children's Health Care team includes pediatricians and pediatric nurse practitioners who provide comprehensive pediatric health care for children, including newborns, toddlers, school aged children, adolescents, and young adults. Our child-centered and family-focused approach covers preventative and urgent care, immunizations, and specialist referrals. Our services include an on-site pediatric nutritionist, special needs care coordinator, and social workers. We also have walk-in appointments available at all of our locations for acute sick visits. Please visit chcmass.com where you will find information about our pediatric doctors, nurse practitioners, as well as our hours and services.