Provider Spotlight - Jennifer Pollard, PPCNP-BC
11/23/2020
A chance to get to know your providers
Jennifer Pollard, PPCNP-BC
Jen is a Pediatric Nurse Practitioner who works in our Newburyport Upper Level office. She joined CHC in the 1995.
Jen grew up in Rye, New Hampshire and graduated from Portsmouth High School. She knew she wanted to be a pediatric nurse back in high school, when she was inspired by nannying for a premature baby girl. She attended Boston College, where she graduated summa cum laude, and went on to get her dream job of working at Boston Children's Hospital. She cared for critically ill infants and toddlers with conditions such as asthma, bronchiolitis, meningitis, pertussis and sepsis. Jen's passion for vaccination is in large part driven by the fact that many of the illnesses that affected her patients there are rarely seen today due to the invention of new vaccines. Her time at Children's also corresponded with the height of the AIDS epidemic. Caring for affected babies became a major focus of Jen's work there.
Eventually Jen went back to Boston College, where she obtained her Master's in Science in Nursing degree. Her first job after graduate school, in 1995, was at our very own Children's Health Care. She was our first full time nurse practitioner.
Jen and her husband Phil were married in 1997. They have two children. Josh, who was a 27-week preemie, is now 21 and is away at college. Her daughter, Leah, is 15 and was adopted as an infant from South Korea. Jen and Leah share a passion for horses and riding. and as a family they spend a lot of time up at her family's lake house in Freedom, NH, and they have held season tickets to Boston College hockey games for over twenty years.
In her free time, Jen loves to run, and generally tries to accomplish two half marathons a year. She is a huge animal lover and has been a dedicated volunteer at New England Equine Rescue in West Newbury, where she helps care for abandoned donkeys and horses. She also has her own horse, Bella, three cats, three chickens, and of course Tessie, who is Jen's best running partner and inspiration.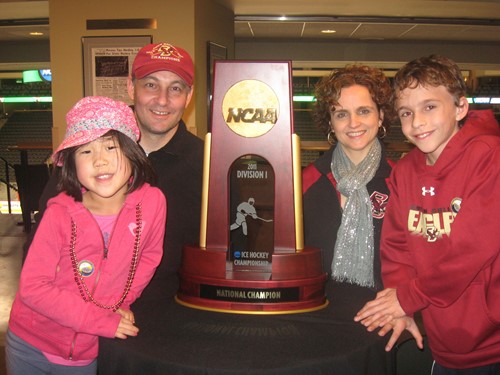 Jen and her family love watching Boston College Hockey. Here they celebrated the National Championship win in Minnesota.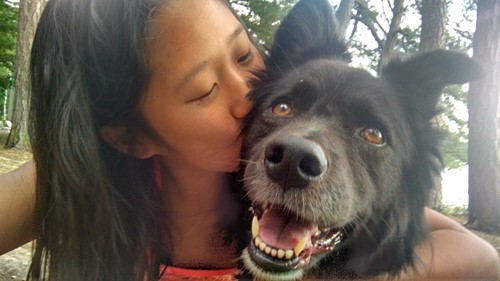 Jen loves her running partner Tessie.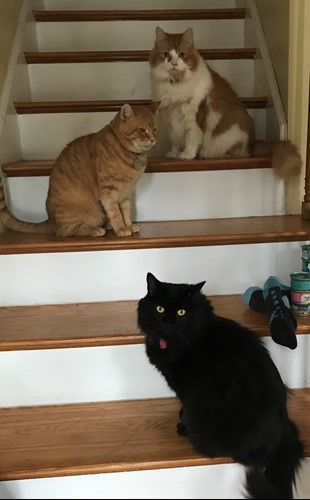 Jen has 3 cats, Miso, Jerry and Fudge.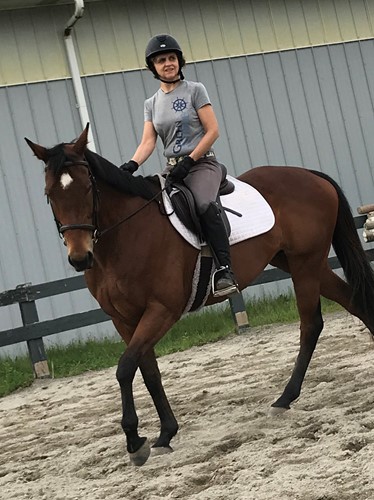 Jen volunteers at New England Equine Rescue. She loves riding and taking care of her horse, Bella.
All About Jen
What is your favorite fruit?
Mango
What music do you love?
Lyle Lovett, Sarah McLachlan, Indigo Girls, Dixie Chicks, and Tedeschi Trucks Band take up most of my playlist.
What is the last TV show you watched?
I just finished and loved The Handmaid's Tale. My all-time favorites have been The West Wing, Homeland, and Bosch.
What is your favorite book?
I read every night and I have loved so many books. The books that have touched me the most over the years are: "Exile" by Richard North Patterson, "Memoirs of a Geisha "by Arthur Golden, "Where the Crawdads Sing" by Delia Owens, and "This is How it Always Is" by Laurie Frankel.
What is your Favorite Ice Cream Flavor?
I love pretty much any ice cream. Peppermint stick might be my favorite though.
What is your favorite vacation you have taken?
I love to travel, but the absolute best trip I ever took was to Israel in 2016 with a group of other parents from the North Shore.
What did you want to be when you were a child?
I wanted to be a Pediatric nurse!
If you could have any other job what would it be?
I think I'd love being a farmer. I love driving tractors and getting really dirty. Or possibly a marine biologist.
What area of pediatrics are you interested in?
I am interested in mental health, infants with feeding difficulties, and helping children and families faced with socioeconomic challenges.
What's the best part of CHC?
The whole community! My patients, my fellow nurse practitioners, the doctors, and the staff. I am so blessed to work there.
Children's Health Care of Newburyport, Massachusetts and Haverhill, Massachusetts is a pediatric healthcare practice providing care for families across the North Shore, Merrimack Valley, southern New Hampshire, and the Seacoast regions. The Children's Health Care team includes pediatricians and pediatric nurse practitioners who provide comprehensive pediatric health care for children, including newborns, toddlers, school aged children, adolescents, and young adults. Our child-centered and family-focused approach covers preventative and urgent care, immunizations, and specialist referrals. Our services include an on-site pediatric nutritionist, special needs care coordinator, and social workers. We also have walk-in appointments available at all of our locations for acute sick visits. Please visit chcmass.com where you will find information about our pediatric doctors, nurse practitioners, as well as our hours and services.