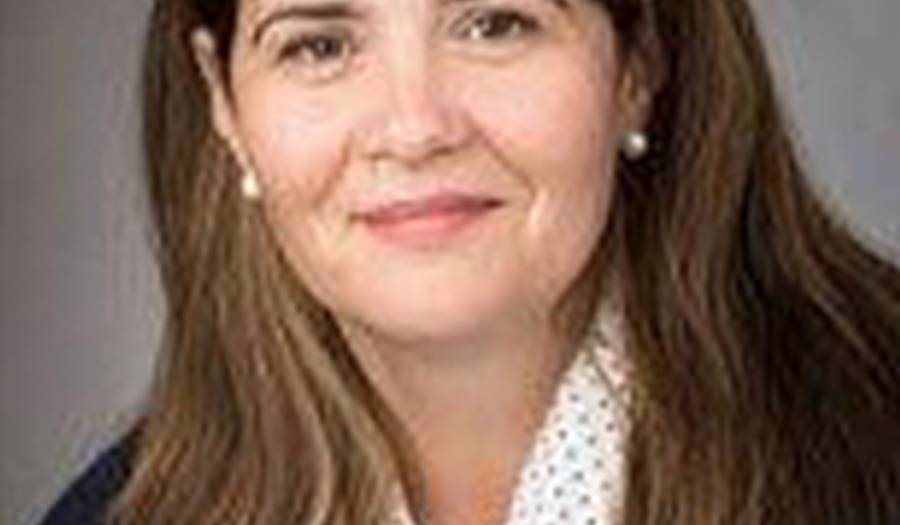 Provider Spotlight - Christine Riccardi, MD
2/22/2021
A chance to get to know your providers
Christine D. Riccardi, MD
Christine D. Riccardi is a Pediatrician who works in our Newburyport Office. She joined CHC in 2006.
Christine Riccardi, the oldest of three girls, was born and raised in Brooklyn, New York. She loved living in the city and seeing all the tall buildings. Her family frequently visited Manhattan via her favorite bridge, the Brooklyn Bridge. Christine loved visiting the Central Park playground. Her parents told her she would go around the playground hugging all the other children. Little did they know her life would be full of kids at work and home.!
Christine's family moved from Brooklyn to upstate New York for a few short years. Despite only living there briefly, she created many of her core memories in upstate New York including sledding, skiing, and swimming on the "Green Dolphins" swim team Her swimming career took off in 4th grade when her medley relay team won 3rd place in the state regional championship. Christine swam the butterfly leg of the relay. Her family then moved to Connecticut where she lived from the end of elementary school all the way through high school. In high school, Christine loved sports. She played soccer, swam on the boys' varsity swim team (there was no girls team), and played tennis. She was captain of the tennis team.
Christine returned to New York state for college. She majored in Biology hoping to be a biochemist but realized the lab wasn't the right fit for her. Being more of a people person, she applied to medical school. Her love for New York City never ended and she was able to do her residency there after medical school. The city on post-call mornings were some of her favorite memories.
Christine met her husband, Rich, while in medical school and they later married. They had their first child, a girl named Isabella in 2004. The Riccardi family moved to Newburyport and Christine joined Children's Health Care during the summer of 2006. After setting into the area, they added two boys to the family, Nicholas and Rocco. Their family grew further when they added two mini-Bernedoodles, Josie and Gus (who is named after Cinderella's pudgy mouse-he is the white dog in the picture below).
Besides her love for cities, Christine loves the ocean, especially Plum Island, Crane's Beach, and Goose Neck Beach. Her family enjoys many beach and water activities. Christine also loves to explore the world with her family. They have recently enjoyed the northern California coast, St. John, Guadalupe, the Netherlands, France and Belgium. During their recent trip to Belgium, they were able to visit Christine's grandparents who still reside in Belgium. Because of her Belgian family members, Christine grew up speaking French as a second language.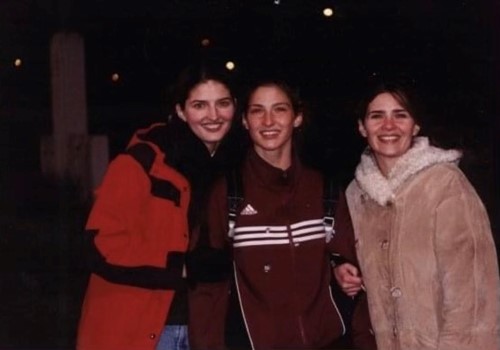 Christine with her sisters Lena and Monique.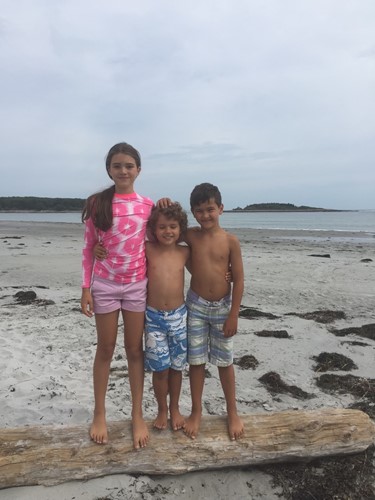 The Riccardi family at their favorite beach in Goose Rocks Beach, Maine.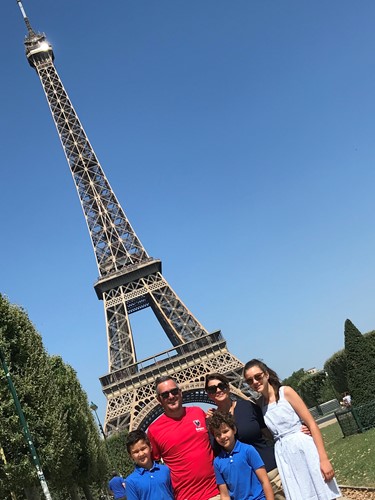 The Riccardi family visiting Christine's family in France and Belgium.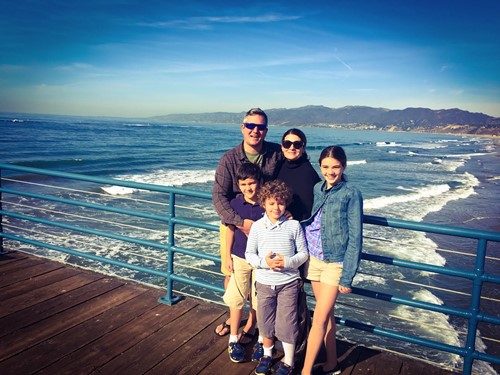 A family trip down the coast of northern California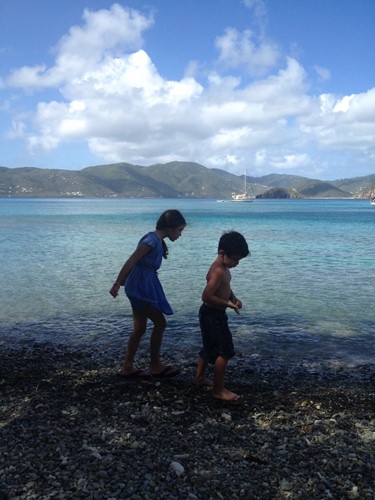 Two of her children hunt for shells while on a trip to St. John.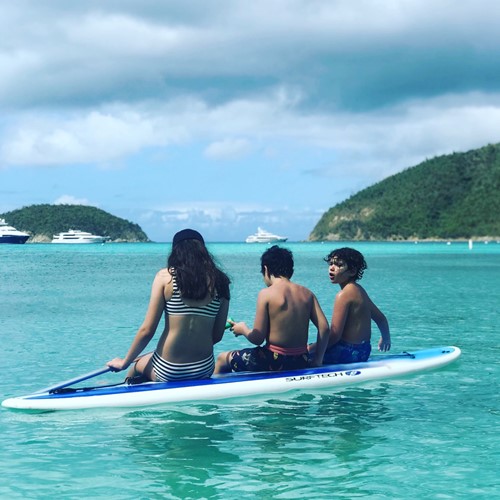 The Riccardi family loves water sports such as swimming and paddle boarding. They also love sailing.
All About Christine!
What is your favorite fruit?
Raspberries and mango.
What music do you love?
Recently I have loved listening to "Amour Plastique" by Videoclub. I love all genres except country and heavy metal, but I would say pop and opera are my favorites.
What is the last TV show you watched?
I'm currently watching 'Your Honor' starring Bryan Cranston.
What is your favorite book?
The Little Prince by Antoine de Sainte-Exupery. I first read this book in French and each of my children have their own copy in English.
What is your Favorite Ice Cream Flavor?
Pistachio
What is your favorite vacation you have taken?
My favorite vacation with my parents and sister is a trip where we drove from Brussels to Rome and back to Brussels. My favorite vacation with my husband and children was our trip to France and Belgium, St. Johns, and our drive down the coast of northern California.
What did you want to be when you were a child?
I wanted to be an astronaut and the first woman to go to the moon.
If you could have any other job what would it be?
I would love to be a United Nations Ambassador, editor for Architectural design magazine, or a food taster in Paris.
Do you have any hidden or useless talents?
I can imitate Madonna's singing, but I'll never prove it as I am too shy to sing!
What area of pediatrics are you interested in?
I love seeing newborns and adolescents. I also love discussing preventative care with parents and patients.
What's the best part of CHC?
I love building close relationships with my patients and their families.
Children's Health Care of Newburyport, Massachusetts and Haverhill, Massachusetts is a pediatric healthcare practice providing care for families across the North Shore, Merrimack Valley, southern New Hampshire, and the Seacoast regions.  The Children's Health Care team includes pediatricians and pediatric nurse practitioners who provide comprehensive pediatric health care for children, including newborns, toddlers, school aged children, adolescents, and young adults. Our child-centered and family-focused approach covers preventative and urgent care, immunizations, and specialist referrals. Our services include an on-site pediatric nutritionist, special needs care coordinator, and social workers. We also have walk-in appointments available at all of our locations for acute sick visits. Please visit chcmass.com where you will find information about our pediatric doctors, nurse practitioners, as well as our hours and services.