Provider Spotlight - Alta Tusini, MD
1/25/2021
A chance to get to know your providers
Alta Tusini, MD
Alta Tusini is a Pediatrician who works in our Haverhill Office. She joined CHC in 2019.
Alta Tusini was born and raised in Allentown, PA (like the Billy Joel song!). She was active with soccer and skiing while growing up. She studied biomedical engineering at George Washington University, then spent the two years after college living in the DC area while working at the National Institute of Health. Following her time in DC, she moved to New York to attend Albert Einstein College of Medicine. After 4 years in New York, Alta moved to Salt Lake City for her pediatric residency. While she loved Utah, she was very happy to return back East to be closer to family.
Alta met her husband, Evan, on her first day of orientation at George Washington University. They married in 2015 and just welcomed a baby boy, Dominic, to the family.
Alta joined CHC in the summer of 2019.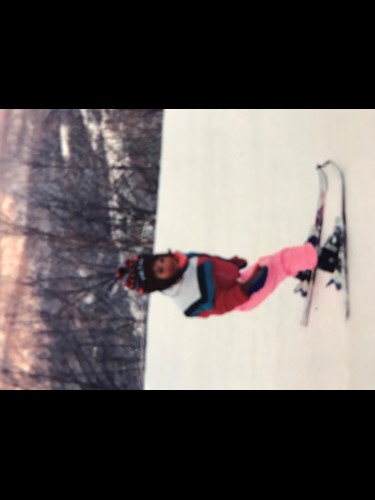 Alta is an avid skier and started on the slopes at age 3!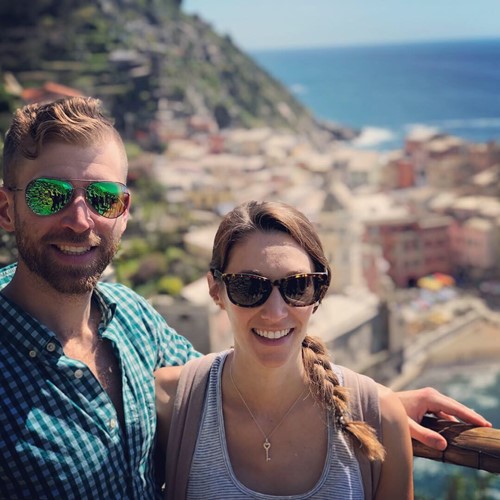 Traveling along the coast of Italy.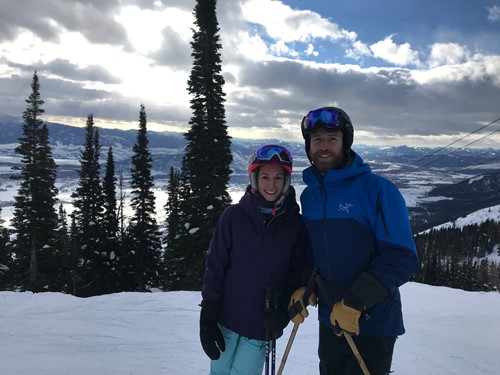 Enjoying the view at Jackson Hole, Wyoming.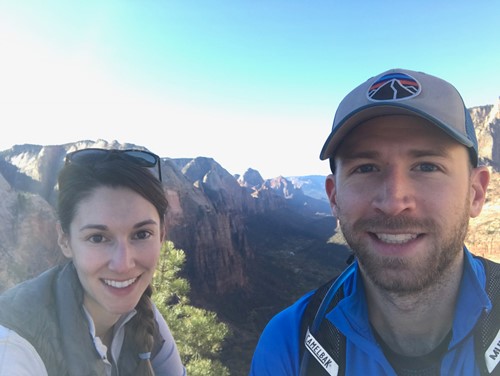 Sitting at the top of Angels Landing in Zion National Park
All About Alta!
What is your favorite fruit?
Strawberries and watermelon.
What music do you love?
A mix of pop and country. I am looking forward to being able to see live music again after the pandemic!
What is the last TV show you watched?
I'm working through "Yellowstone", which has great scenery. My all-time favorites are "The Wire", 'Parks & Rec", "The Marvelous Mrs. Maisel", and "Big Little Lies".
What is your favorite book?
It's hard to pick one! I most recently read "Where the Crawdads Sing.".
What is your Favorite Ice Cream Flavor?
Pistachio
What is your favorite vacation you have taken?
Evan and I went to Italy for our honeymoon. It was a trip filled with pizza, gelato, and wine!
What did you want to be when you were a child?
I thought about being a teacher and would practice giving lessons to my stuffed animals.
If you could have any other job what would it be?
Something that involves travel.
Do you have any hidden or useless talents?
I learned how to solder while studying engineering, but I haven't had the need to use it since!
What area of pediatrics are you interested in?
I love seeing newborns and infants! It's amazing to see how much they develop in between visits!
What's the best part of CHC?
The wonderful people I work with!
Children's Health Care of Newburyport, Massachusetts and Haverhill, Massachusetts is a pediatric healthcare practice providing care for families across the North Shore, Merrimack Valley, southern New Hampshire, and the Seacoast regions.  The Children's Health Care team includes pediatricians and pediatric nurse practitioners who provide comprehensive pediatric health care for children, including newborns, toddlers, school aged children, adolescents, and young adults. Our child-centered and family-focused approach covers preventative and urgent care, immunizations, and specialist referrals. Our services include an on-site pediatric nutritionist, special needs care coordinator, and social workers. We also have walk-in appointments available at all of our locations for acute sick visits. Please visit chcmass.com where you will find information about our pediatric doctors, nurse practitioners, as well as our hours and services.