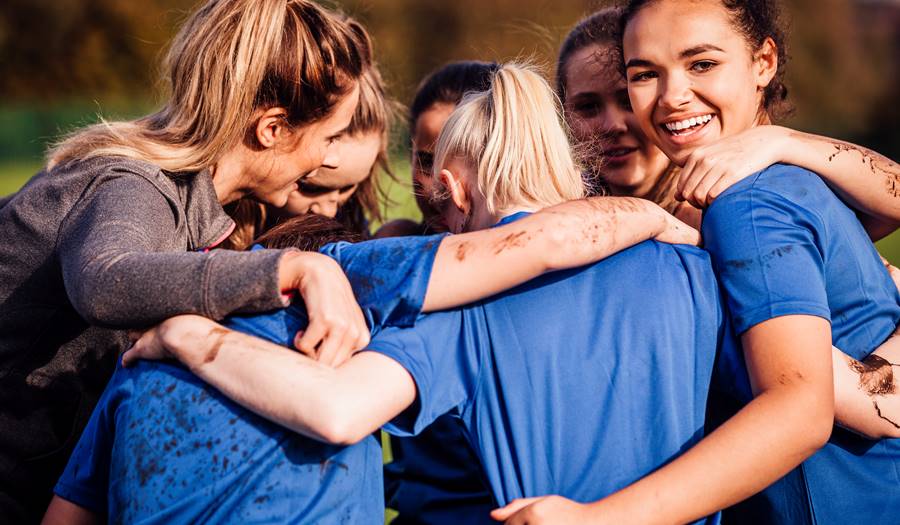 Physical Activity and Sports
3/21/2022
Physical activity is a cornerstone of health not just for adults but for children too. How much physical activity do children need daily? Today we will talk about physical activity, the benefits of activity, and sports.
PHYSICAL ACTIVITY
When children engage in physical activity and know the importance of physical activity to their health, they build a foundation that last a lifetime.
RECOMMENDED LEVELS OF ACTIVITY
The amount of activity a child needs depends on their age.
Infants should get 30 minutes of interactive play or tummy time daily. This can be spread throughout the day.
Toddlers need at least 60 minutes of physical activity through interactive play.
Preschool-aged children need 3 hours daily, or 15 minutes for every hour they are awake.
School-aged children and teens need 60 minutes of vigorous exercise daily. Vigorous exercise is exercise that makes a person breath hard and sweat. The 60-180 minutes of activity daily do not need to be done at once but can be broke up into smaller bursts of activity. Recess at school and physical education classes at school count towards this activity time.
Only 30% of children get enough physical activity a day and those numbers slowly decrease during elementary school until reaching 24% once children enter high school. Instead, children are spending upwards of 7.5 hours every day on screen time!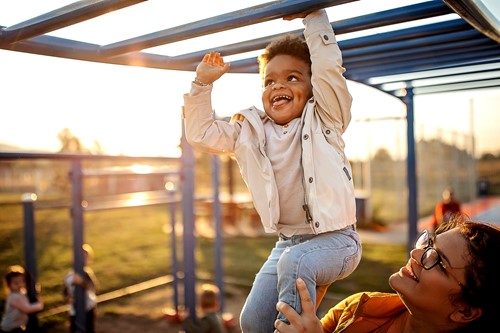 TYPES OF PHYSICAL ACTIVITY
Children should be aiming to get the three main types of exercise: aerobic, muscle strengthening, and bone strengthening. Some exercise or activities combine 2 or 3 of these types. Aerobic exercise should be done daily. Muscle- and bone-strengthening exercises should be done for 30 minutes 3 times per week.
Aerobic
Aerobic exercises use large muscles and strengthens heart and lungs. This type of exercise conditions the body by increasing the rate at which oxygen is inhaled and passed from the lung and heart to the bloodstream to be used by muscles. As your body adapts to aerobic exercise, you can exercise longer, and your heart rate and breathing do not elevate as high. You experience less fatigue and have mor energy.
Aerobic exercise can be varied but requires an elevated heart rate. For preschoolers it may include walking, running, playing on a playground, climbing, tumbling, throwing, or catching. For older children it can include walking, running, biking, dancing, hiking, skateboarding, martial arts, basketball, ice or field hockey, lacrosse, soccer, volleyball, jumping rope, swimming, skiing, rowing, or using an exercise machine like a rower, stair-climber, or elliptical.
Muscle Strengthening
Muscle strengthening helps to build lean muscle mass and make a person stronger. Muscle strengthening can come from resistance work including bodyweight exercises or lifting weights. It can also come from play including climbing, using monkey bars, and pushing and pulling objects.
In order to safely and effectively do strength training exercises, a child needs to have balance, good muscle control, and correct posture. This means children should not start lifting weights or doing bodyweight exercises until age 7-8 at the earliest. When doing this type of exercise, they need qualified supervision to enforce correct form and prevent injury. While strength training may be a part of children's physical activity, we do not recommend Olympic lifting, power lifting, or body building.
Bone Strengthening
Bone strengthening exercise are those that put pressure on bones to help build up muscle and bone mass. Any sport that involves weight-bearing or resistance. These can include walking, hiking, running, climbing stairs, any playing a variety of sports including basketball, baseball, softball, lacrosse, soccer, volleyball, and ice or field hockey. It also includes resistance work such as lifting weights.
BENEFITS OF PHYSICAL ACTIVITY
Physical activity, of course, has physical benefits. These include:
Improved endurance
Improved strength
Strong bones
Higher lean muscle mass
Developed motor skills
Developed coordination
Improved sleep quality and duration
Boosted immune system functioning
Physical activity can also reduce the risk of diseases such as
Diabetes
High blood pressure
Heart disease
It even has mental and cognitive benefits including:
Improved emotional well-being
Decreased feelings of depression and anxiety
Boosted self-esteem
Improved behavior
Improved attention
Less loneliness by fostering friendship
Improved teamwork
Improved school performance with 40% higher test scores in children who exercise
Increased rates of college attendance
Higher lifetime earnings
Children with disability also benefit immensely from physical activity and should be offered the chance to be active. Benefits include
Improved fitness
Increased psychosocial functioning
Higher feelings of self-worth
Reported higher quality of life
Increased social competence
Higher levels of social support
Specifically, studies have found:
Children with Autism who participate in exercise are more engaged at school and exhibit fewer challenging behaviors
Children with Cystic Fibrosis who participate in physical activity have less pulmonary infections and build more muscle mass
Children with cancer can reduce their risk of cardiovascular disease (which is increased due to cancer treatments) through physical activity
Many sports can be adapted for disabled students including horseback riding, tennis, basketball, swimming, weightlifting, and soccer. Adaptive equipment is available. You can find more resources for adaptive sports and equipment at Move United, the Special Olympics, and US Paralympics. Schools are also required by law to provide accommodations for physical education. These accommodations can be written into a child's Individualized Education Plan (IEP).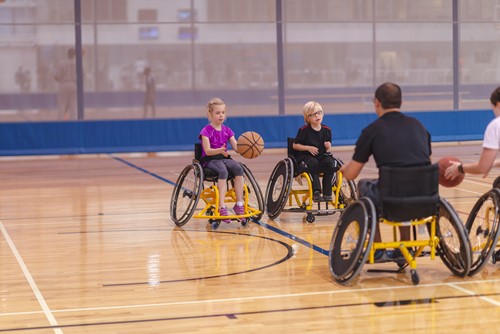 ENCOURAGING PHSYICAL ACTIVITY
How can we encourage our children to be physically active? Make it fun! Play is exercise! Make sure your child has access to active toys such as balls, jump ropes, or bikes. And make sure to play with your child! If your child like superheroes, make a superhero obstacle course to run through. If they like Star Wars, have a lightsaber battle. If they like dinosaurs, do dinosaur yoga. If they love Disney, make an Olaf snowman outside!
Exercise should be developmentally appropriate and safe to prevent injuries. Make sure they have proper protective equipment, have safe gear, and are exercising in a safe area that avoids cars and other hazards.
Try different exercise and if your child doesn't like one, find another they may enjoy! Exercise should not be a punishment. It should be enjoyable. It also doesn't need to be the same exercise over and over. One day it may be dancing, the next day it may be a long walk.
Make sure you provide your child with a role model who prioritizes physical activity. Make a commitment to make time in your life for physical activity and try to include your children. Make a set time and schedule it on your calendar like any other important event. And set limits on screen time to encourage other types of activities.
OBSTACLES TO PHYSICAL ACTIVITY
Common obstacles to physical activities will come up for every person and family.  If you are short on time, try to build activity into your daily life and use activity as transportation. If you can't commit 60 minutes a day, get what you can get, even if it is only 10 minutes, and increase it as you can.
Often 60 minutes a day is a daunting amount of time when are starting to exercise and may not be physically possible. Start small and increase as you tolerate the physical activity.
If you lack resources to exercise, there are free YouTube videos, DVDs you can rent from the library, and local recreation centers that make exercising free or more affordable. If your child wants to play sports but it is not financially possible, speak to teams as many teams have scholarship programs available.
If you are afraid to exercise or your child is afraid to exercise because they "aren't good at sports", you don't need to participate in sports! You can walk, hike, dance in your living room, or jump on a trampoline!
SPORTS PARTICIPATION
The most common way that school-aged children and teenagers get in their allotted physical activity is through organized sports. Most kids are ready to start sports around age 6. The goal of sports should be fun! The focus should be on fun, not winning, building physical skills, developing teamwork, and improving fitness levels.
Not every child is interested in team sports! Children can be encouraged to try sports but should never be forced. There are other ways to stay active that do not include competition. Some include social aspects without the need for teamwork. Non-competitive activities can include hiking, rock climbing, swimming, biking, surfing, windsurfing, martial arts, walking, running, and exercising at a gym. Explore those activities with your child.
BENEFITS OF ORGANIZED SPORTS
 The benefits of sports in a child's life are numerable. These benefits include physical, mental, cognitive, and social.
Physical
Physical benefits of sports include:
Increased cardiovascular fitness
Higher bone density
Increased muscle mass
Better functional movements
Decreased cardiovascular risks
Decreased levels of obesity
Improved hand-eye coordination
Mental
Mental benefits of participating in sports include:
Better mental health
Less feelings of depression or anxiety
Positive effects for children with social anxiety or shyness
Reduced feelings of stress
Lower rates of suicide
Cognitive
Cognitive benefits of participating in sports include:
Improved academic performance
Improved verbal skills
Improved numeric skills
Improved reasoning skills
Higher graduation rates
Higher rates of attending college
Social
Social benefits of participating in sports include:
Better self-regulatory skills
Improved social identity
A more positive social concept
Improved social adjustment
Better leadership skills
Better conflict resolution skills
Improved communication skills
Life Skills and Benefits
Other benefits of participating in sports include:
Improved time management
Lower rates of drug abuse
Lower rates of cigarette smoking
Less risk taking
More likely to practice safe sex
RISKS OF ORGANIZED SPORTS
Participating in sports should be fun and beneficial to participants but there can be some negative aspects or risks involved. While sports decrease the risk of drug and tobacco abuse, we see higher rates of alcohol use and binge drinking in athletes as well as earlier alcohol drinking initiation. Some people suffer from unhealthy body image when participating in sports and turn to unhealthy weight loss or control and the use of performance-enhancing substances such as anabolic steroids, human growth hormone, and "nutritional" supplements.
Socially, we see higher rates of bully and hazing with sport participants, particularly in males. There is also the risk of unsportsmen-like behavior from parent and coaches. When children witness their parents and coaches acting like this, it increases the chance they will exhibit these same behaviors. If not, it is highly embarrassing and can be the cause of a child losing interest in a sport. Poor coaching is also a risk. Over 25% of athletes report coaches are emotional abuse to an individual or to a team.
Financially, sports can be very expensive between fees to participate, for equipment and uniforms, for travel, and for camps or clinics. Usually, this money is invested but rarely returned in way of college scholarships or playing professionally. Only 3-11% of all high school athletes go on to compete in college and only 1% of athletes earn a college scholarship!
Sports Specialization
Though many coaches, athletes, and parents encourage and participate in sports specialization, this is actually a negative aspect of sports. Sports specialization is when an athlete picks a single sport to focus on early in their athletic career. This is risky because it is more likely to lead to overuse injury, stress, lost interest in sports, and burnout (see below).
The American Academy of Pediatrics recommends encouraging younger children to try and participate in a variety of sports and wait until high school if they must specialize in a sport. A child should have 3 months off every year (they do not need to be consecutive) and they should have 1-2 rest days a week while participating in a sport.
Overuse Injuries
Overuse injuries are damage to muscle, ligaments, or tendons caused by repetitive stress and not enough healing time. Overuse injuries follow four steps:
Pain in an area right after an activity
Pain during the activity
Pain during an activity that restricts a person's ability to do the activity
Chronic pain when at rest
Overuse injuries can be prevented by:
Not specializing in a sports
Keeping fitness up between seasons
Only practicing or exercising the same sport 5 days per week
Taking a complete rest day once a week
Taking 3 months off a year (1 month between each season)
Slowly increasing training at the beginning of a season
For individual sports injury prevention, see this great sport-by-sport guide from Boston Children's Hospital HERE.
Burnout
There are some risks that come from sports participation. One risk that is seen in almost 10% of all athletes is burnout. Burnout is emotional and physical exhaustion towards an activity. A person experiencing burnout may:
Have a reduced sense of accomplishment
Devalue their sport
Have chronic muscle or joint pain
Have increased fatigue
Have increased heart rate
Have decreased sports performance
Have a personality change
May lack enthusiasm for their sport
May have difficulty completing their normal routine
Burnout is more likely to be seen in young athletes who are overtraining. This may be a child who specializes in one sport very young or one who is practicing more hours in one sport than how many years old they are (for example, a 15-year-old practicing 20 hours a week of one sport). Overtraining not only puts stressors on the body, but it can also result in social isolation due to the high time commitment of their sport.
Female Athlete Triad
For female athletes, sports bring physical risks. The female athlete triad is a dangerous health condition where a person is not taking in enough calories or may be purposefully restricting calories. Calorie restriction causes weight loss. Not getting enough energy from food also creates menstrual problems and weakens their bones. A person with this issue may not menstruate or may menstruate very irregularly. Without proper energy and correct hormone balance, their bone density suffers. Their bones become weak which increases the risk of developing stress or compression fractures.
To reverse the triad, a person must increase their calorie intake, take in 5 servings of calcium daily, and decrease their calories expenditure. This will provide their body with energy it needs to function properly. Once a person's menstrual cycle returns to normal, they will start to build up bone density but may never reach the bone density they should reach or would have reached had they not experienced the female athlete triad of health issues.
Physical activity is vital to keeping your body healthy and provides so many other benefits. Encouraging your child to get physical activity daily and showing your child how to enjoy physical activity can provide a healthy foundation that will stay with them throughout their life. Physical activity can be as simple as walking or may include organized sports. If you have any concerns about your child's physical activity levels, any activity or sports-related injuries, or your child needs a sports physical, please do not hesitate to reach out to your primary care provider.
Children's Health Care of Newburyport, Massachusetts and Haverhill, Massachusetts is a pediatric healthcare practice providing care for families across the North Shore, Merrimack Valley, southern New Hampshire, and the Seacoast regions.  The Children's Health Care team includes pediatricians and pediatric nurse practitioners who provide comprehensive pediatric health care for children, including newborns, toddlers, school aged children, adolescents, and young adults. Our child-centered and family-focused approach covers preventative and urgent care, immunizations, and specialist referrals. Our services include an on-site pediatric nutritionist, special needs care coordinator, and social workers. We also have walk-in appointments available at all of our locations for acute sick visits. Please visit chcmass.com where you will find information about our pediatric doctors, nurse practitioners, as well as our hours and services.
Disclaimer: this health information is for educational purposes only.  You, the reader, assume full responsibility for how you choose to use it.