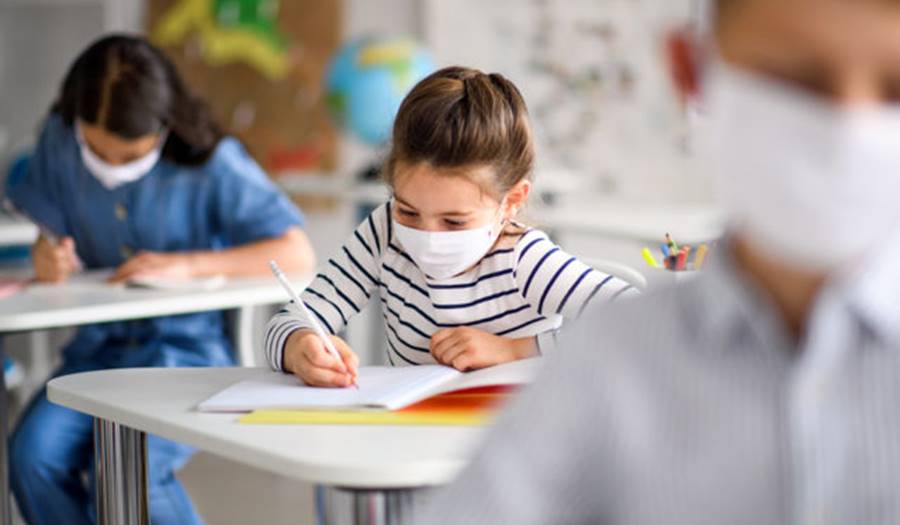 Back To School
8/10/2020
Returning to School During a Pandemic
As Fall is upon us, we start thinking about the start of school Normally, the start of school makes us start thinking about teacher assignments, school supplies, and new routines. This year, we are coming into the new school year during a pandemic and after 3 months of learning from home. Schools are preparing for the fall with schools using all options: full time learning in school, hybrid home and in school learning, and a fully remote learning option. No matter what your school or family chooses from these options, it is important to prepare your child for this upcoming school year.
Remote Learning
We all just finished 3 months of learning from home in June. It was a huge change for all parents. Some families struggled with this change while some embraced remote learning. No matter how your family felt about learning from home (and you may have struggled AND enjoyed it), continued learning from home may be stressful for your family. You are not alone, and it is normal have mixed feelings regarding learning from home. Feeling overwhelmed is a normal reaction to this change. It is especially hard when trying to balance helping your child with working from home or working outside the home.
Whether your school is doing full time remote learning or part time remove learning, we should all be prepared to make our home an environment conducive to learning. How can you help make this a successful time for your child and family?
• Provide a proper learning environment.
• Make sure your child has a space to learn. It should include a supportive chair and a desk like surface. Smaller children should have a place to put their feet if they can't reach the floor. Many early learning skills with handwriting require core strength. Core strength requires a child to be upright with feet firmly planted on the floor, a stool, or a solid box.
• Make sure you have proper school supplies. If you do not have a computer or internet connection, please contact your school. Many schools are loaning out computers and have programs to assist you with getting an internet connection. Also make sure necessary school supplies such as paper, pencils, and pens are easy to reach.
• Make sure their learning space is clear of distractions. They should not have access to their phone (unless required for class) or toys. They should refrain from eating. Also, siblings who are not engaged in learning or who may be on concurrent Zooms/live classrooms.
• Create a structure to your day that includes breaks, physical activity, play, meals, and sleep. See the side bar for more information. If you feel like your child will struggle with following a schedule, include a fun activity or a reward towards the end of the day to help encourage them to give it a try! This could include a movie night, game night, extra screen time, or an activity of their choice.
If your family needs help making a schedule, there are many examples of schedules online but one tailored to your family's needs will be the most successful. Include your child is helping develop your family's schedule. Boston Children's Hospital has a great example here: https://extapps.childrenshospital.org/EFPEC/Home/Sheet/6247
• Set a normal sleep routine for your house. That means a consistent bedtime routine, good sleep hygiene, and a set bedtime and wake up time. Even if you are exclusively home learning, having a schedule will help your days run more smoothly. With that said, we know our teens do learn better with more sleep and should be allowed to appreciate that benefit of home learning…but that doesn't mean sleeping until noon time!
• If you or your child is struggling with remote learning do not struggle alone! Seek help from the school system or teachers. Most parents are not trained as teachers. The teachers are also learning a different way to teach and communication with them will help everyone maximize the remote learning experience. Also talking to other parents for support can be helpful. They may also have some tips for home learning you may not have thought about!
• If you or your child is overwhelmed, take a quick time out where you relax or do an enjoyable activity. Trying to push through when you or your child is stressed generally does not facilitate learning.
• Find other ways to learn that are fun and exciting! You can utilize YouTube, Khan Academy, and other online resources to make learning fun and engaging or to fill in gaps in your knowledge! Think outside the box! Remember making exploding volcanos as a child? It was so much more fun that watching a video about chemistry or geology and all you need is baking soda and vinegar! During the pandemic, many National Parks and museums made tours available online, The San Diego Zoo, New England Aquarium, the National Gallery of Art in Washington, D.C, The Van Gogh Museum in Amsterdam, and The Metropolitan Museum of Art in New York City are some places offering live tours!
Returning to the Classroom
The most important part of returning to school is to prepare your child for what school will be like in the fall. Discussing how their class may look different, how learning may be different, and new school rules before school starts can help reduce anxiety and set expectations. Discuss how classroom set ups may be different. The desks or table seating may be further apart, may include plastic partitions, and may be in untraditional classroom settings. Also discuss that they may spend more time learning outdoors and may not have specials such as physical education, library, or art class. They also need to know that the expectation will be to keep a distance from their friends, and they should not be hugging, touching, or giving their friends high-fives. Children should be reminded not to share any of their school supplies, food, or other items they bring to school.
The requirement to wear a mask is a new experience for most children. Often it can be hot, itchy, and some masks can be uncomfortable. Find a mask that properly fits your child, has a nose piece to help keep it in proper place, and is comfortable fitting around the ears or around the back of their head. It is important to have your child practice wearing a mask before they will be expected to keep in on for longer periods of time.
In addition to practicing wearing a mask, you should also practice proper handwashing. Work with your child on making sure they scrub all parts of their hand including between fingers and nails. A way to show your child places they are missing is to paint their hands with non-toxic washable paint and have them wash their hands without looking. Any paint left will show them places they have missed and should focus on. Also use a song or a timer to make sure they are washing for a full 20 seconds.
Children follow our lead. It is important to be positive and a good role model. It is an uncertain time. When we show our child high levels of fear, not only do they take on those fear, the fear they see in their parents is further unsettling for them. This does not mean you can't talk to your child about COVID-19 and concerns but having a calm and confident demeanor is very important. Also, if you have a positive attitude about wearing a mask, washing hands, and social distancing, your child is much more likely to have a similar positive attitude.
As a parent, it would be wise to look at the guideline your state has released about in school learning and illness response. These guidelines are readily available from your school and on state Department of Education websites. They outline the parameters for keeping your child home during illness, COVID-19 testing recommendation and requirements, self-quarantining guidelines, as well as plans for close classroom or school exposures. It would also be prudent to discuss flexible work schedules and sick time with your employer before the school year starts. Whether this includes work from home or more flexible leave having a plan in place can be beneficial for both you and your employer.
Special Scenarios
IEPs and 504s
IEPs and 504s are specialized educational plans. These plans provide accommodations and services for children in the school setting. As we transitioned to home learning in the spring, schools had to adjust to make IEPs and 504s work within the home learning environment. This was a big change for most children and for schools! Some services such were challenging to do over Zooms and were not ideal for students, families, and service providers.
Current recommendations are for children who have IEPs to have priority in returning to school so that they may have increased access to the services listed in their educational plan. But what if that is not feasible due to health issues or your school is only doing remote learning? We recommend communicating with the school about your options. This may include continuing services through teletherapy or considering attending school for these services only as an individual or very small group, in a sterilized room, and trying to group these therapies to one day or session in order to reduce exposure time in the schools.
If you are choosing teletherapy or if that is your only option, keep a log of therapies provided. Additionally, recording progress or regressions will be helpful for your child's team in modifying therapies or techniques.
It is also important to structure your child's day and include breaks. A child who is receiving services through school will often be doing these on top of their classroom work. This adds extra time to an already full day. Make sure your child has an opportunity to take movement, relaxation and food or hydration breaks. This may mean school will take on non-traditional hours. It is more important that your child be engaged and ready to learn that pushing through a schedule that does not work for them.
High Risk Health Conditions
Children with high risk health conditions will want to discuss the return to school with their primary care physician and specialists before returning to school. We believe children are much less likely to have severe disease and are less likely to spread the disease. But we are still learning which conditions may increase your risk of severe disease. In children, high risk patients are those who have cancer and/or are immunocompromised after solid organ or bone marrow transplant, those on immunosuppressive medications, those with sickle cell disease, and those with congenital heart conditions. We believe children with asthma, cystic fibrosis, neurological conditions, thalassemia, and type 1 diabetes mellitus MAY have an increased risk of severe disease, but this is not certain. In these cases, a discussion with your child's health care team will help you decide what is safest for your child and family.
Covid-19 has changed our lives for better and worse. It will change school for elementary through college age students this fall None of the plans that schools are bringing forth are "normal" or ideal, but our children will be better prepared and more willing to accept these changes will a little bit of preparation and a whole lot of flexibility and positive role modeling from us as parents. Preparing our children for changes in their school environment, the precautions we will all be taking such as wearing masks, and preparing your family and home for remote learning will help ease the transition for everyone.
Children's Health Care of Newburyport, Massachusetts and Haverhill, Massachusetts is a pediatric healthcare practice providing care for families across the North Shore, Merrimack Valley, southern New Hampshire, and the Seacoast regions.  The Children's Health Care team includes pediatricians and pediatric nurse practitioners who provide comprehensive pediatric health care for children, including newborns, toddlers, school aged children, adolescents, and young adults. Our child-centered and family-focused approach covers preventative and urgent care, immunizations, and specialist referrals. Our services include an on-site pediatric nutritionist, special needs care coordinator, and social workers. We also have walk-in appointments available at all of our locations for acute sick visits. Please visit chcmass.com where you will find information about our pediatric doctors, nurse practitioners, as well as our hours and services. 
Disclaimer: this health information is for educational purposes only. You, the reader, assume full responsibility for how you choose to use it.